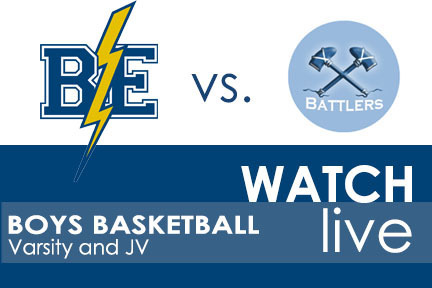 Yesterday the Vet Science students practiced giving physical exams to a cat and dog.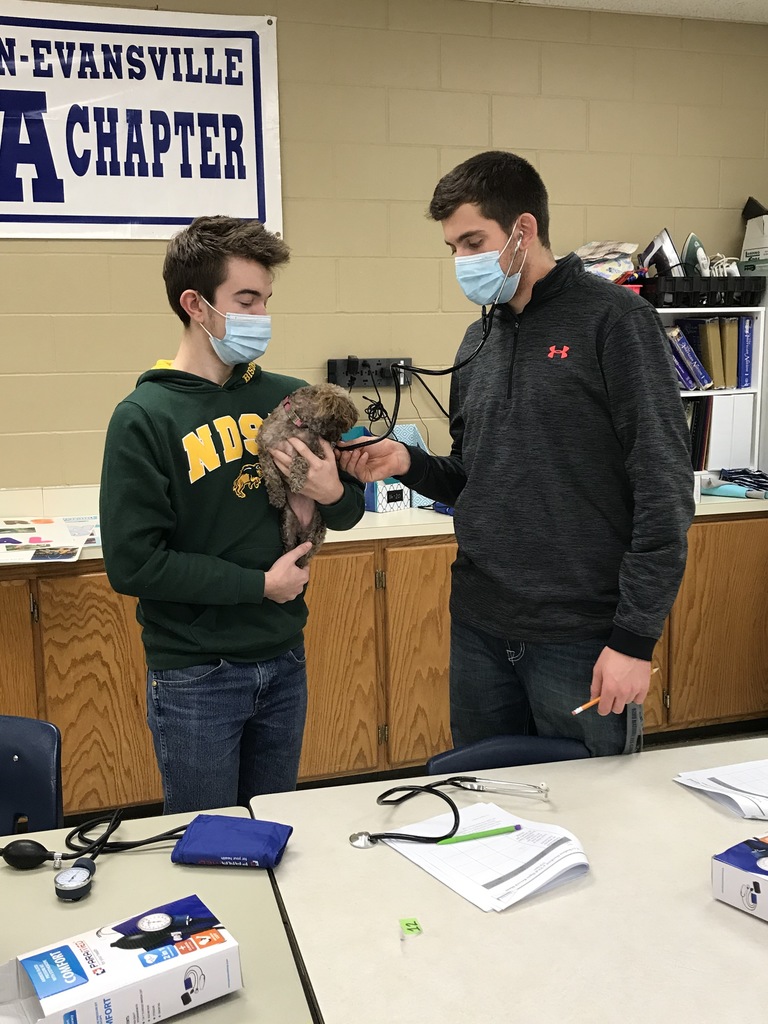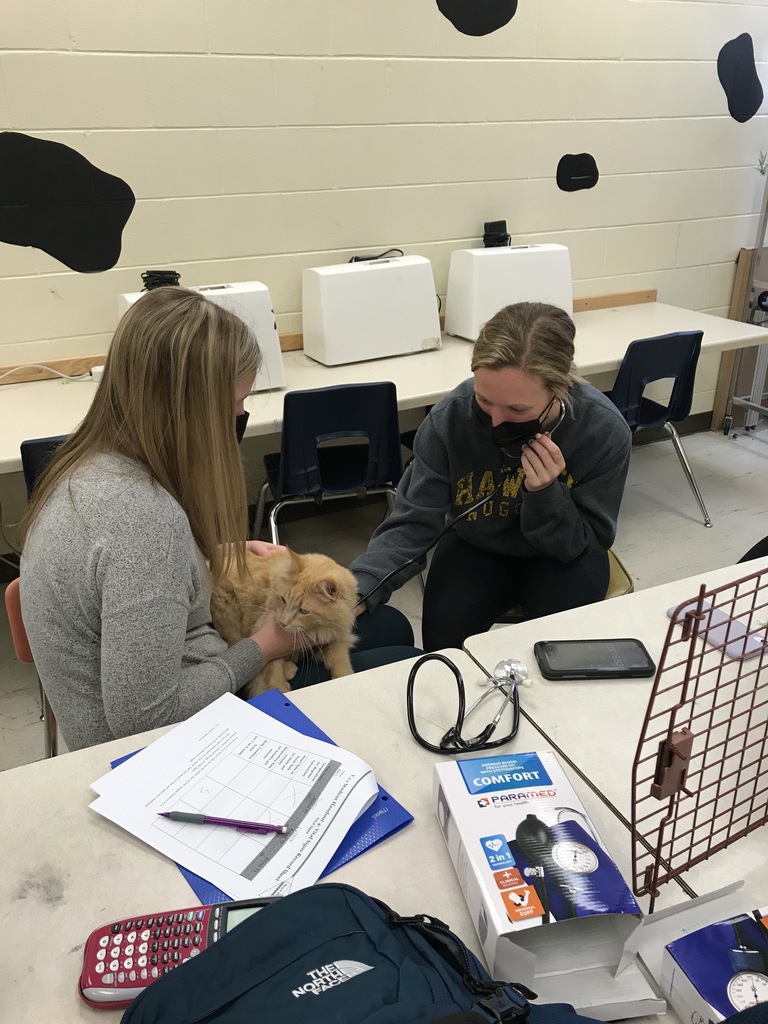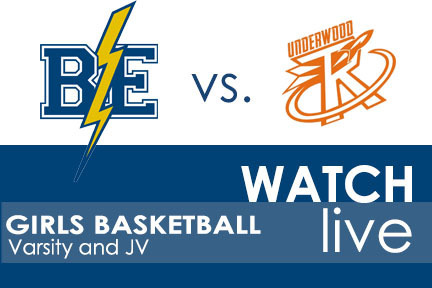 Tonight's Wrestling Triangular will make the following changes due to covid protocols: The Away Team's JV team will sit in socially distant chairs on the west side of the JV mat. Both Varsity teams that are wrestling and their coaches will be in the south bleachers (one team socially distant east of the scorers table and one team socially distant west of the scorers table). The team that is not wrestling will be socially distant in the Court 3 bleachers. JV and Varsity matches will start the same time. In order to meet MSHSL Spectator Allowance, we will only allow fans to watch the team in which the athlete who handed them the ticket is on. Match 1: UNC and WCAABE Fans only in the gym. Staples Motley fans wait in the commons. Match 2: UNC and Staples-Motley fans only in the gym. WCAABE fans wait in the commons. Match 3: Staples Motley and WCAABE fans only in the gym. UNC fans in the commons or leave the facility after match 2.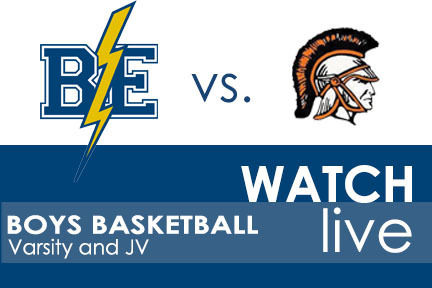 These 7th Graders are wearing their flannel PJ pants they made in FACs Class. They all did a great job and look super comfy.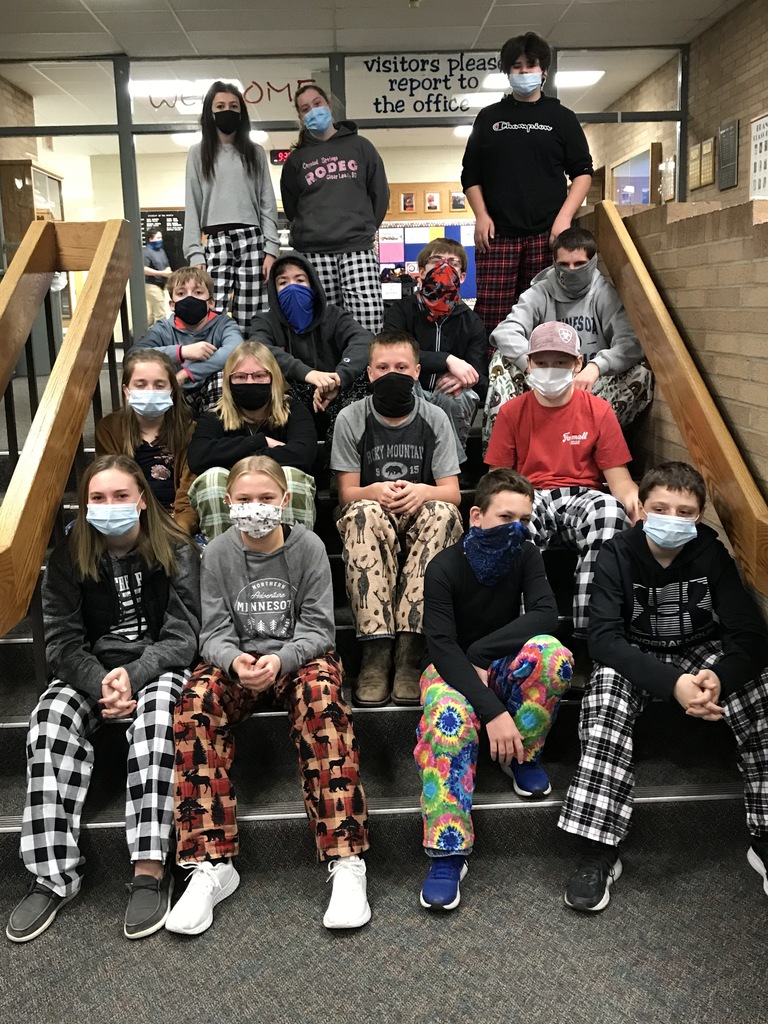 B/E Chargers Boys Basketball season opener vs. Parkers Prairie Panthers will be live streamed on:
https://www.facebook.com/pantherbooster
Game Times: C-Team: 5:00 pm JV: 6:00 pm Varsity: 7:15 pm GO CHARGERS!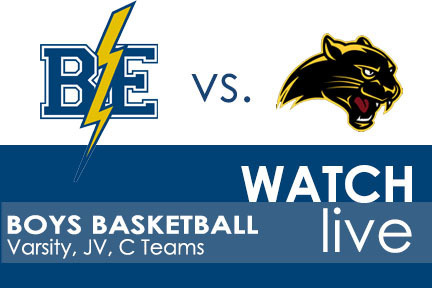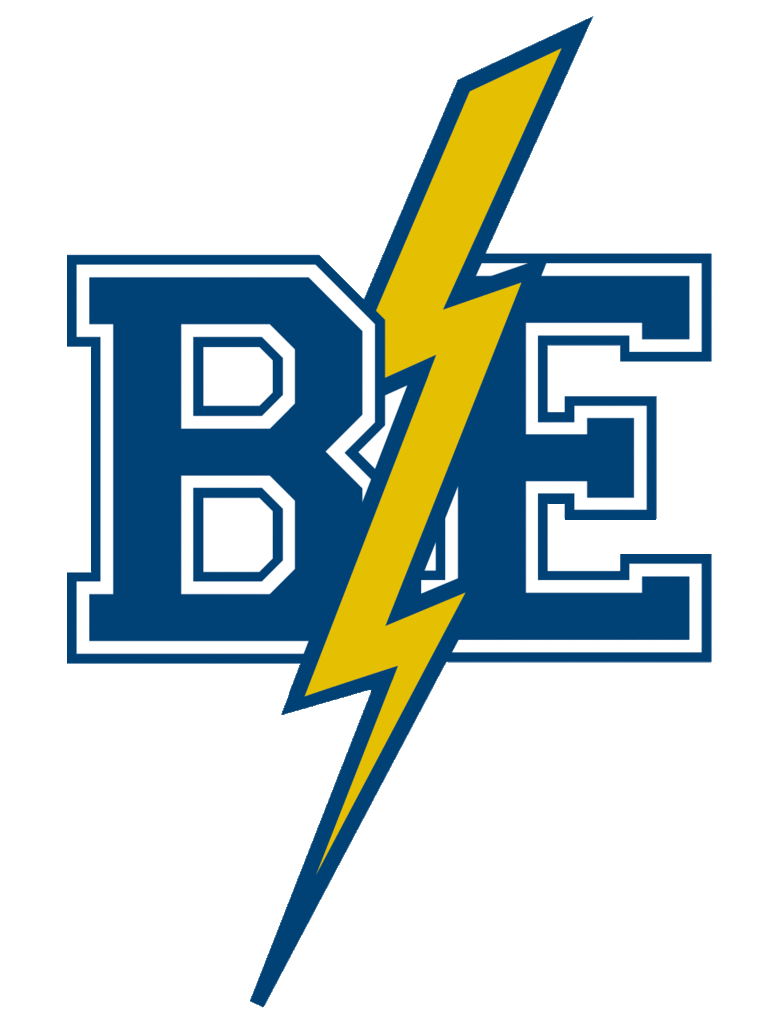 Brandon-Evansville vs. Parkers Prairie scheduled for Friday, January 15th: Fans must enter the West doors facing highway 29. Cost is $5 per person (you must be pre-registered through your athlete). Fans will be seated on the West bleachers on the South side.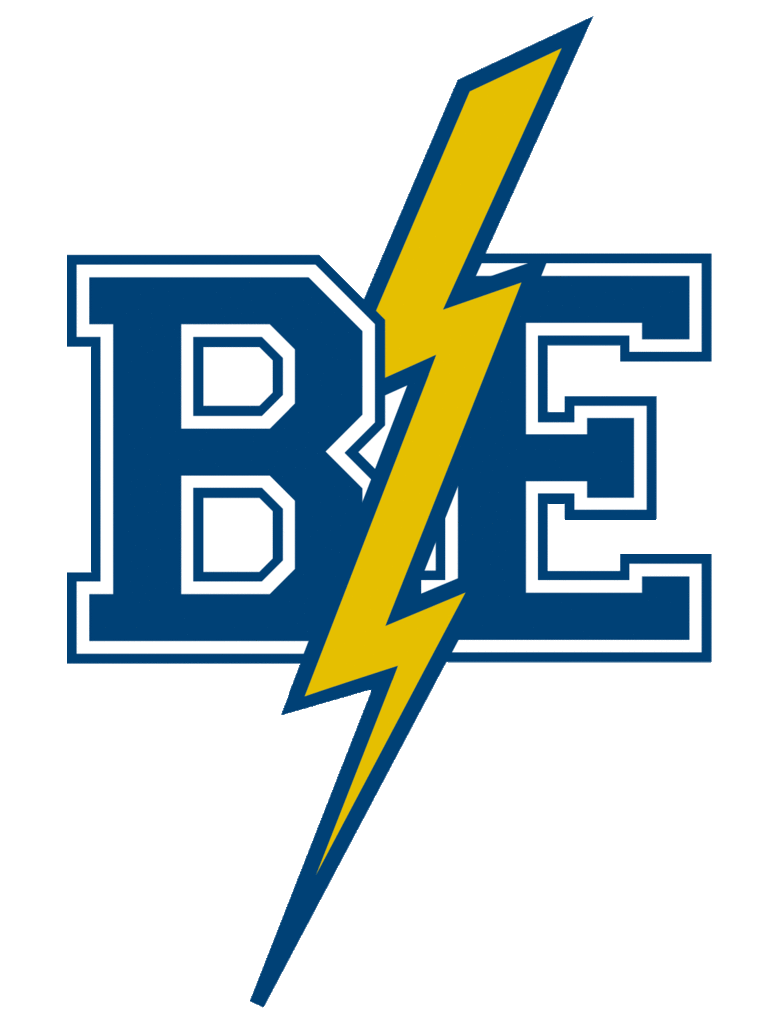 Date: January 9, 2021 Subject: Coronavirus Confirmed Case-Student Dear Families/Students/Staff, We were notified by the Minnesota Department of Health (MDH) of a lab confirmed case of COVID-19 (novel coronavirus) with a student in the Brandon-Evansville high school with an exposure date of January 7,2021. We have 15 confirmed cases of staff members since the start of school and 15 students in the district. We have worked with local health officials to identify those who had close contact with the cases, and have communicated with them individually. The student cases involved a student in the high school. The students who were identified with exposure are quarantined. Parents of students affected have been contacted and the appropriate course of action has been taken. The risk of exposure for other individuals present in the buildings on those dates is no greater than the risk of contracting the virus in the general community. If you were not identified to have close contact with the positive case you should still monitor for symptoms of illness, but do not need to stay home unless symptoms develop. If symptoms develop, stay home and consult with your health care provider to determine if medical evaluation is needed. We understand that this may create unease in our community. We have taken action to clean and sanitize the facility and are working closely with MDH to monitor the situation. We are asking all members of our community to minimize the spread of illness by taking the following actions: · Protect yourself and others by wearing a face covering when it is hard to stay 6 feet away from people; washing your hands often with soap and water; covering your cough and sneeze; and avoiding touching your face with unwashed hands. · If you are sick, stay home from child care and other activities. · Be prepared in case you get sick and need to stay home. Keep enough food, regular prescription drugs, and other necessities on hand in case you need to stay home and are not able to go out easily. · Frequently clean all commonly touched surfaces (e.g., telephones, doorknobs, countertops, etc.). If symptoms develop, stay home and consult with your health care provider to determine if medical evaluation is needed. If you are experiencing symptoms of COVID-19, MDH recommends: 1. Stay at home for at least 10 days, and for 24 hours with no fever and improvement of other symptoms (your fever should be gone for 24 hours without using fever-reducing medicine). 2. Use the Centers for Disease Control and Prevention website on how to care for yourself at home; see What to Do If You Are Sick: (
https://www.cdc.gov/coronavirus/2019-ncov/if-you-are-sick/steps-when-sick.html
)  3. If your household contacts were exposed to you while you had symptoms, they should try to stay home as much as possible for 14 days. This is a challenging time and I know many of you may be feeling stress or anxiety. We will get through this together as a community, and will be stronger when we emerge. Here are additional resources: · Coronavirus Disease 2019 (COVID-19) (
https://www.health.state.mn.us/diseases/coronavirus/index.html
)  · If You Are Sick (COVID-19) (
https://www.health.state.mn.us/diseases/coronavirus/sick.html
)  · Coronavirus (COVID-19) (
https://www.cdc.gov/coronavirus/2019-ncov/index.html
Sincerely, Don Peschel Brian Novak Superintendent Brandon Site Principal Evansville Site Principal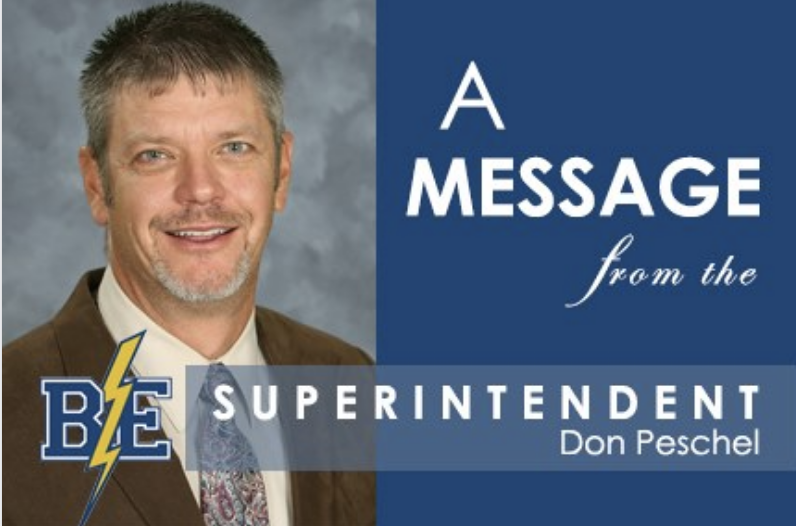 Little Eight Conference Basketball Parent Information In order to help parents know the expectations for their child's basketball games this season, the activities directors from the Little Eight Conference have agreed to follow some of the same protocols at all of our games. Please remember that these protocols may not be the same at non conference games. ABC Games Each player will be allowed two fans for all home and away games. Each player will identify who those fans will most often be, and their information will be on a check off sheet at each game. A different fan may come in their place, but will have to sign in with their information. Fans will pay $5 each and are expected to have correct change at the gate. If space is an issue in a given location, spectators may be asked to leave after their son or daughter have finished playing. 7-8 Games Because of limited bleacher space in secondary gyms, We will only have home fans at JH games. No admission will be charged for JH games.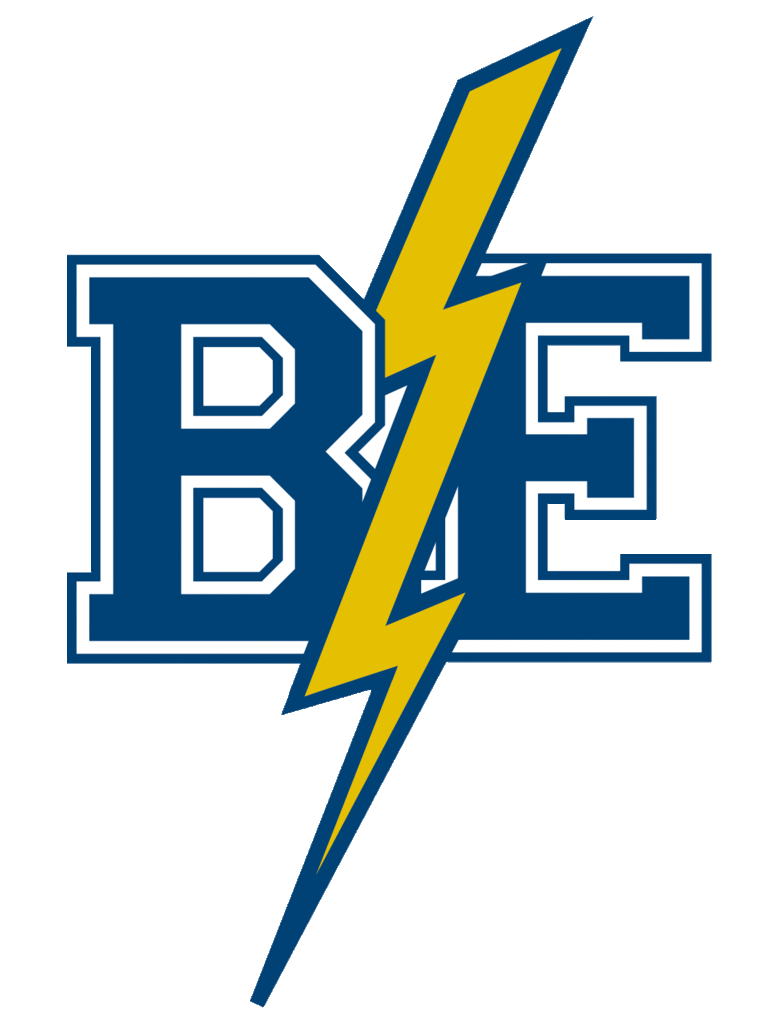 REMINDER for any parents that have 7th-12th grade students in basketball: Parent meeting for boys and girls basketball tonight, 1/5! Boys meeting 5:30 in Evansville gym. Girls meeting 6:30 in Brandon Gym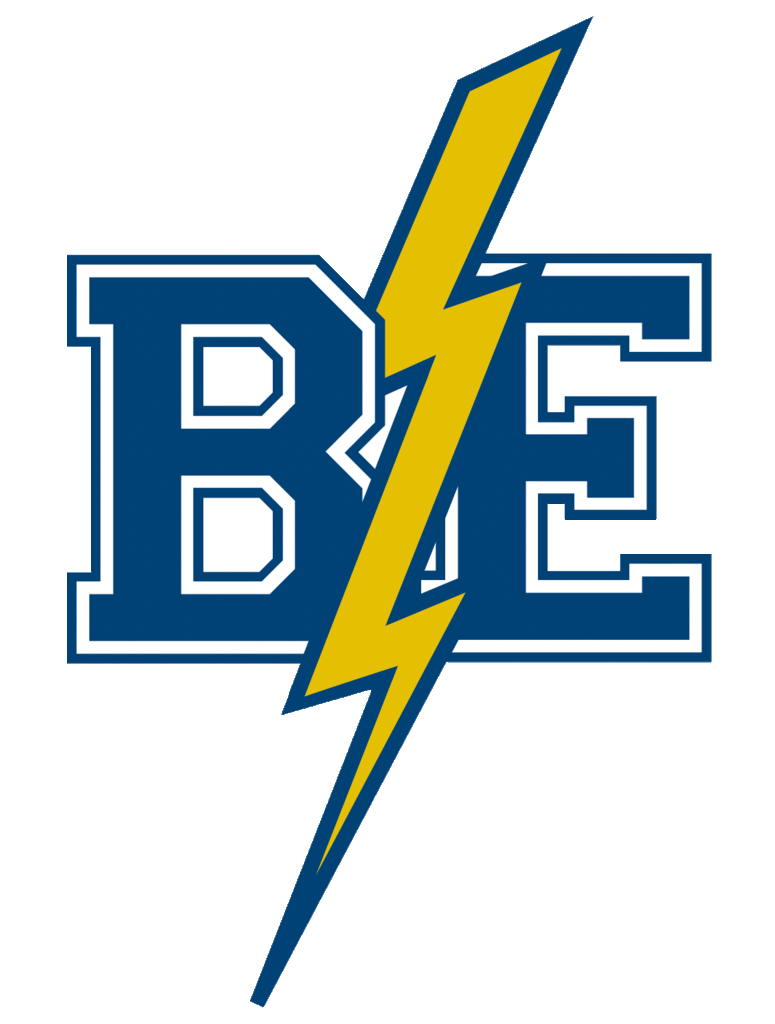 Best wishes to all of you for a Happy and Healthy New Year! Brandon-Evansville School will be ALL IN for all grades PreK-12th, starting back on Monday, January 4th. We are excited to see your children back at school on Monday! Superintendent Peschel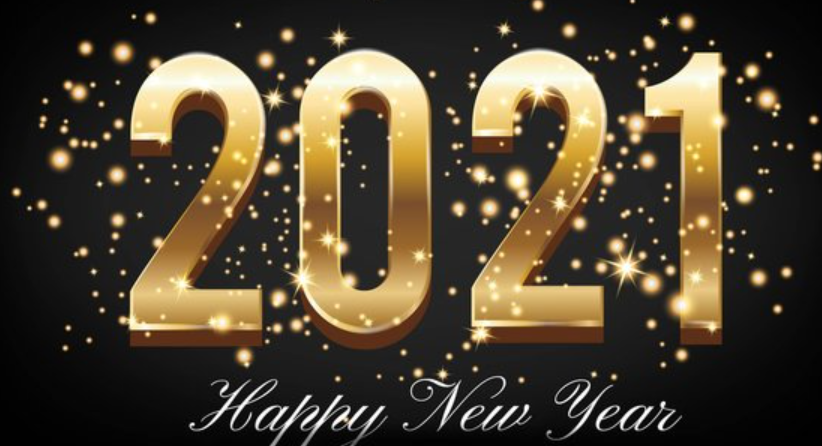 Dylan Bitzan, Tyler Bitzan, and Riley Bitzan show off their framing assignment, "Mini House" they built in Construction I Class.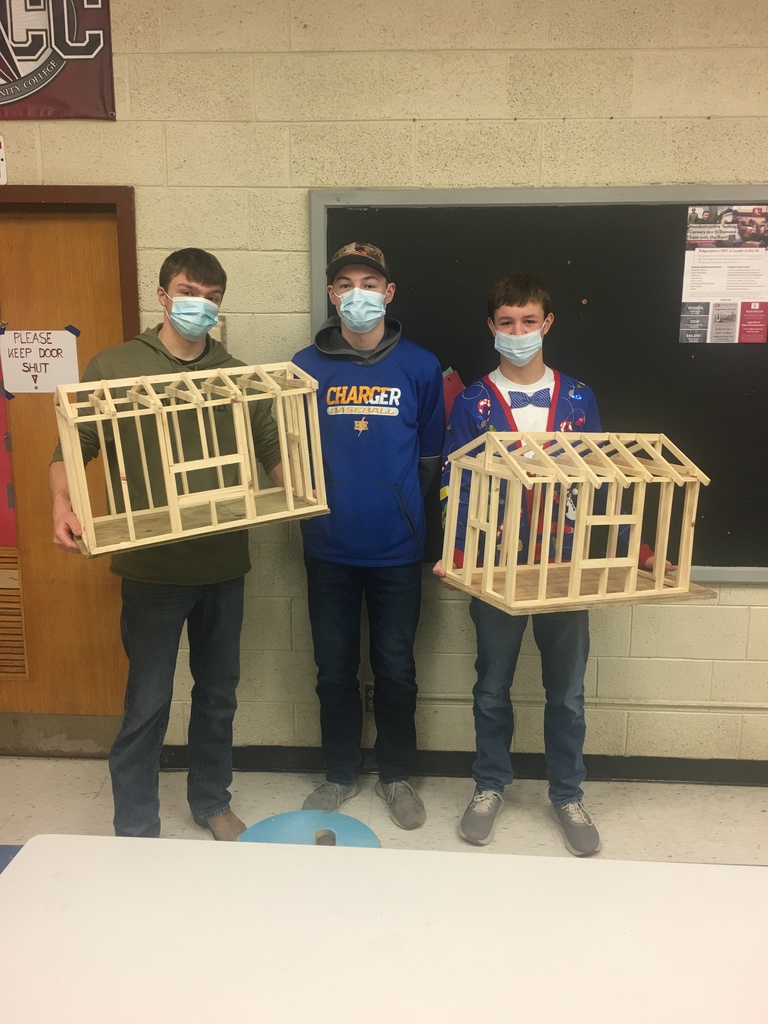 Grace Otto and Brooke Quinn showing off their "Pallet Christmas Tree" and "Barn Star" they helped design in Woods I.

7th grade Industrial Ed class designed and raced their CO2 dragsters. David Stroeing was the fastest out of the class. Way to go 7th Graders!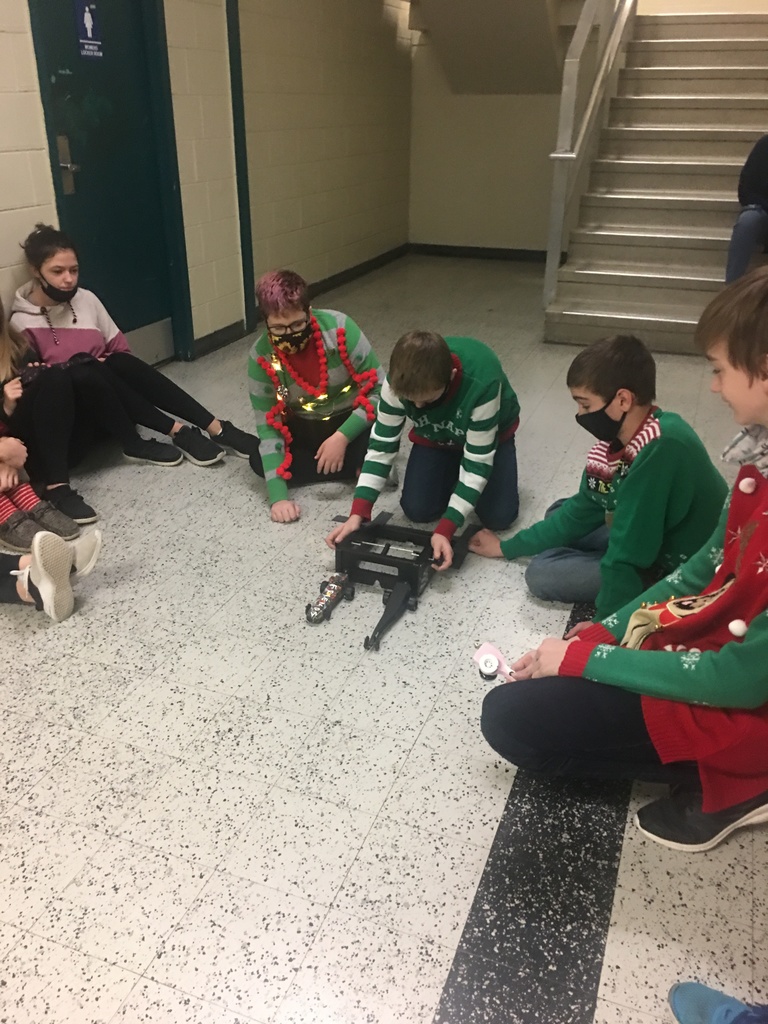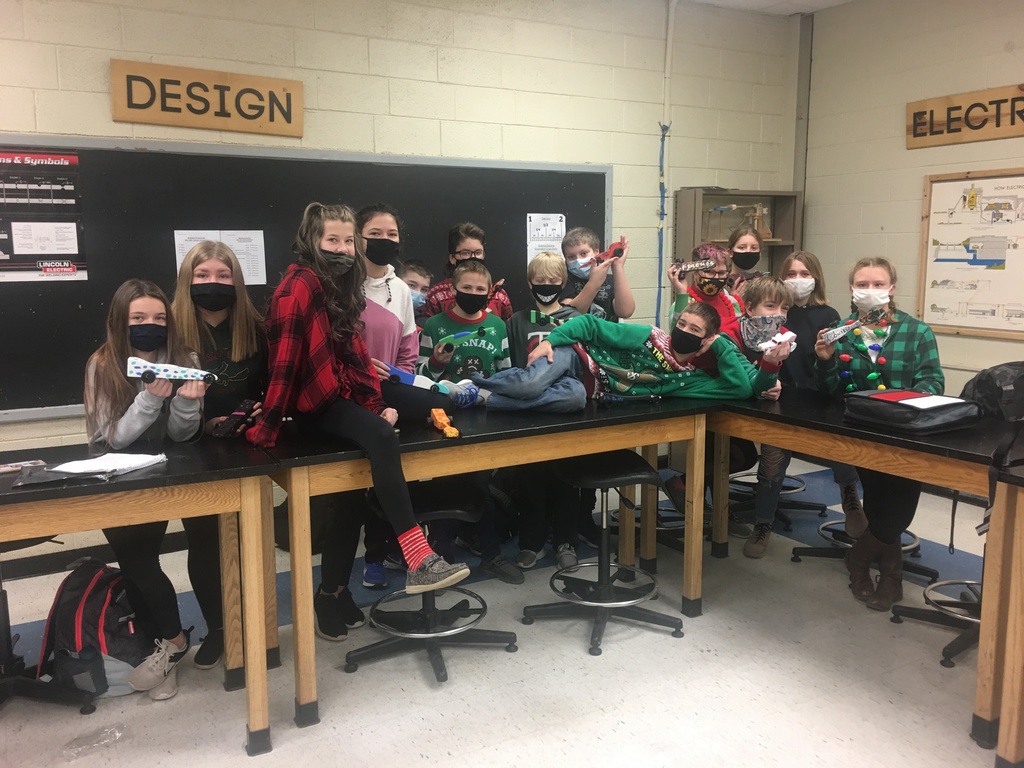 Merry Christmas & Happy New Year!